1. Description:

Type KM series slurry pump is designed for transporting liquid containing suspended solid particles, or the high hardness, strong corrosive and high density slurry.

Typical Application:

●
Iron, cooper or phosphorus mineral processing
●
Cyclone feeding
●
Removing ash in power plant
●
Flue gas desphurization in power plant
●
Flushing steel mill blast furnace cinder
●
Removing ash in power plant
●
Ball grinding mill ore discharging
●
Other wear-resistant and anti-corrosive working conditions

2. Features:


●
High efficiency, wear resistant, stable performance, interchangeability of parts; excellent hydraulic model.
●
Replaceable wear-resistant metal or rubber liners, impellers&volute liners are made of wear-resistant materials(such as A05, A49,and other high chrome metal or rubber).
●
Bearing assembly use cylindrical structure, adjusting the space between impeller& front liner easily, being removed completely when being repaired. Grease lubrication.
●
The impeller can be 2--6 blades ones, making the pump more effective. And the pump can achieve in excess of 87% in the best efficiency area,
●
Shaft seal could use the packing seal, expeller seal and mechanical seal. One pump also can be use expeller seal accompany with packing.
●
The discharge outlet can be positioned at intervals of 45 degrees by request and oriented to any 8 positions to suit installations and applications.
●
This pump can be installed in multistage series to meet the delivery for long distance.
●
Drive types: direct coupling drive(DC), V belt drive(CR, CV, ZV, CL), etc.
1. Operating Limits

● Outlet Diameter:25-450 mm(1--18 inches)
● Flow:200--1600 m3/h
● Head:10--68 m

2. Materials:
Materials Options
Construction

Standard

Optional

Wet end parts (Liners,Impellers)
High chrome alloy (A05, A07, A08,A09,A11, A49, A33, A61……);
Natural rubber (R26, R24, R55......);
Synthetic rubber(S01, S12, S21, S42......)
Composite ceramics
Polyurethane

The material adopted is usually based on the detailed application, or could be according to the customer's requirements.

3. Performance Chart: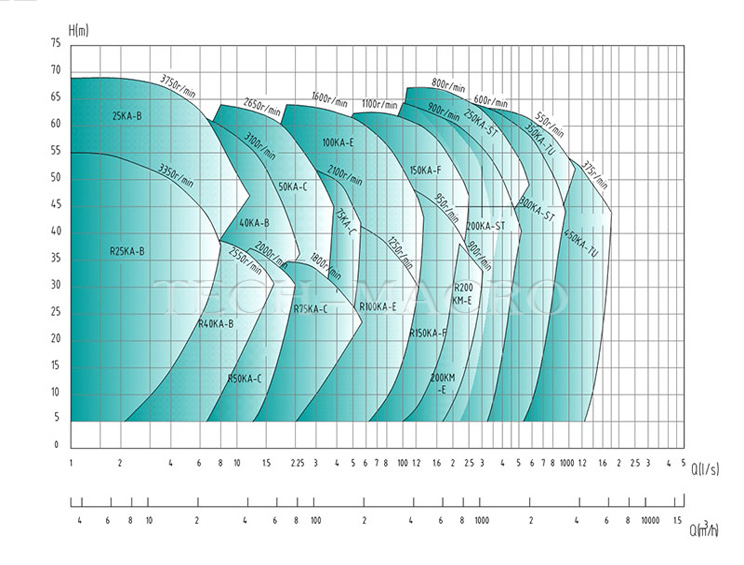 Note: Approximate performance of clean water and only for primary model choice.