Channel Dredging Engineering Projects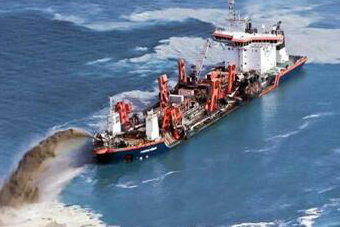 Dredging engineering refers to the use of dredgers or other machinery and artificial underwater excavation to widen and deepen the water area. The dredging project can not only ensure that the sediment will no longer be deposited in the channel (at least before the next flood season), but also can transport the sediment that enters the trench to the lower trench to maintain the stability of the channel. It is a main method to development, improve and maintain waterways and port waters.

Among the engineering, the dredger agitates the soil through the excavation system. A mud dredging pump and diesel engine are installed on the dredger to suck the mud through a pipeline and then discharge it to a designated place.

Tech-macro can provide a variety of dredging pump configuration solutions and engineering services. Our products mainly include KG series dredging pumps with excellent anti-cavitation performance, KW series dredging pumps with large capacity, and SC series deep dredging pumps with deep dredging function and the supporting system. Such equipment can make a great contribution to the dredging, digging mud and filling harbor hydraulically of rivers, lakes, seas, and ports.

For more details, please refer to our company's dredging pump product introduction.