1. Description

KW series dredging pump is single stage single suction horizontal cantilevered centrifugal pump. Our company designs and researches this new type dredging pump by making full use of advanced CAD software, aiming to dredging river, lake and sea which is in great need to dredge in China. The use of this pump has remarkable comprehensive economic benefits and can meet dredging ship's requirements completely.

Type Application

It is used for dredging and hydraulic fill.

2. Features

● The whole construction is suitable for dredging ship.
①Reliable and simple structure (200KW~500KW type is single casing pump, 600KW~1000KW is double casing pump)
②Easy disassembly and installation, convenient maintenance
● Dredging performance is excellent
①good NPSH, strong through-put capability
②The curve of performance decrease sharply, to make the pump more adaptive in the change of discharge distance.
③Pump performance can be in a variety of change.
● Excellent ant-wear performance,long service of wet parts
● A little hydraulic loss,high efficiency,low consumption
● Reliable shaft sealing without leakage
200KW~500KW type usually adopts gland sealing or mechanical sealing or mechanical and packing compound sealing;600KWN~1000KWN adopts rubber sealing device
● Drive type:Generally use belt driven or Gear transmission
1. Operating Limits:

Inlet Diameter:250-1200mm
Discharge Diameter:200-1000mm
Flow Capacity:3-36000m3/h
Head:10-75m

2. Material(Wet-parts)
Materials Options

Construction

Standard

Optional

Wet end parts (Casings/liners,Impellers)

High chrome alloy (A05, A08, A09, A61……);

The material adopted is usually based on the detailed application, or could be according to the customer's requirements.
3. Performance Chart
Series of dredging pump performance curve (only for primary model choice ) .
Note: Approximate clear water performance, and only used for primary model choice.
Construction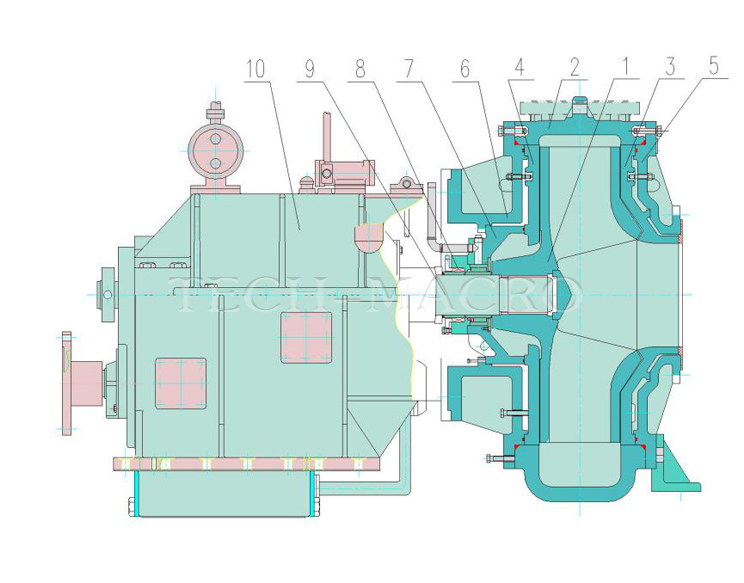 The casing gear box construction of 200-500KW dredging pump

1 Impeller 2 Pump casing 3 Throat bush 4 Back liner 5 Pump cover 6 Joint plate 7 Sealing box 8 Packing seal 9 Shaft 10 Gear box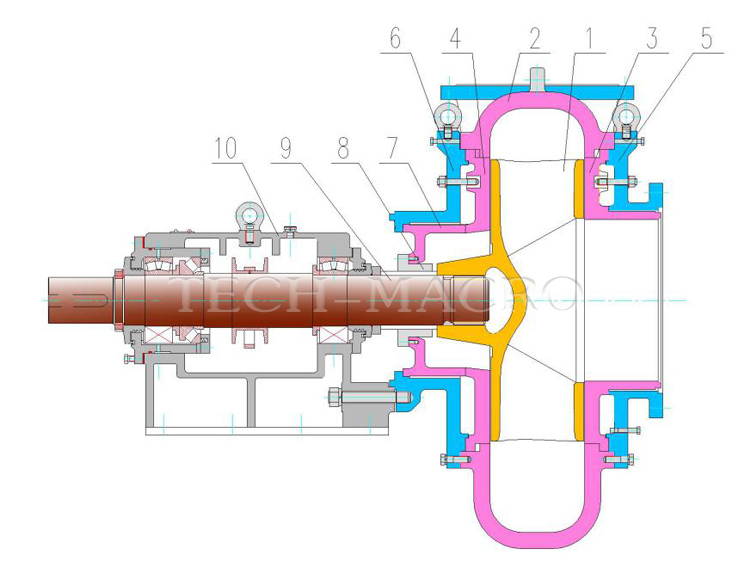 The construction of 200-500KW dredging pump with bracket

1 Impeller 2 Pump casing 3 Throat bush 4 Back liner 5 Pump cover 6 Joint plate 7 Sealing box 8 Mechanical seal 9 Shaft 10 Bracket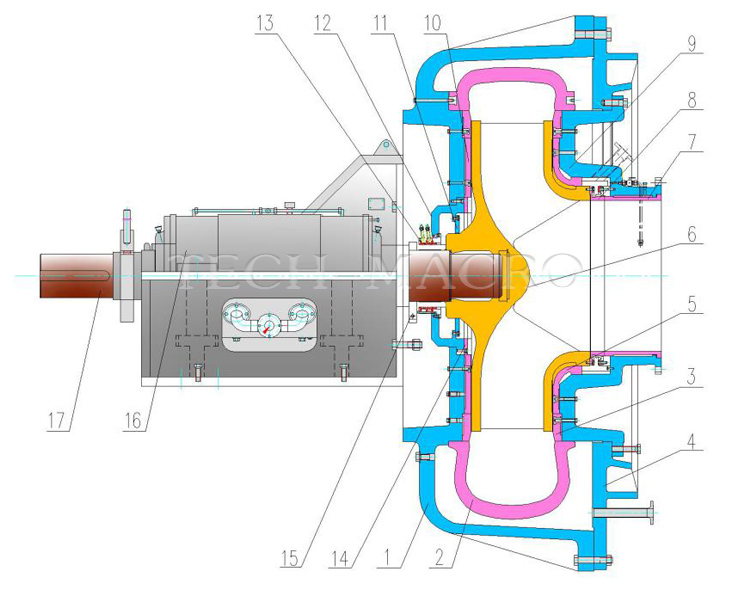 The construction of 600-1000KW dredging pump with bracket

1 Pump casing 2 Volute liner 3 Shoulder ring 4 Big pump cover 5 Throat bush 6 Impeller 7 Suction liner tube 8 Impeller resistant wear ring 9 Small pump cover 10 Back liner 11 Resistant sand plate 12 Sealing box 13 "L" type rubber seal assy 14 Protecting ring of sealing box 15 Impeller release collar 16 Bearing housing 17 Shaft