1. Description:

The KG(H)dredge pump(or called as sand&gravel pump)is single-stage, single-suction, single-casing horizontal slurry pump, and the KGH pumps are high head ones. The pumps are designed for continuously transferring strong corrosive big-solid-contained slurry which the common slurry pump cannot transfer. They are widely used in mining, explosive-sludge in metal melting, dredging in dredger, etc.

Typical Application:

● Dredging in dredger
● River channel dredging
● Stone material processing factory
● Transferring power plant ash
● Delivering furnace clinker in iron works

2. Features:

● Abrasion-resistance, corrosion-resistance; large capacity; wide flow channel; light weight; good performance of NPSH; easy maintenance; anti-clogging.
● Special clamping device of the jointing for pump body and pump cover enables the pump discharge point to any direction.
● The wet parts , including impeller, frame plate, throatbush, frame plate liner insert, all adopt anti-corrosive alloy cast iron or steel.
● The pump consists of pump head, seal assembly, bearing assembly and frame. The bearing assembly is lubricated by grease.
● The pump can be driven by V-belt, coupling directly or by reducer.
● Packing seal, expeller seal and mechanical seal are all available for the pump.
1. Operating Limits

● Inlet diameter:6-32 inch(150-812 mm)
● Discharge diameter:4-28 inch(100-711 mm)
● Flow capacity:36-14400 m3/h
● Head :5-90 m


2. Material(Wet-parts)
Materials Options

Construction

Standard

Optional

Wet end parts (Casings, Impellers)
High chrome alloy (A05, A08, A09, A61……)


The material adopted is usually based on the detailed application, or could be according to the customer's requirements.
3. Performance Chart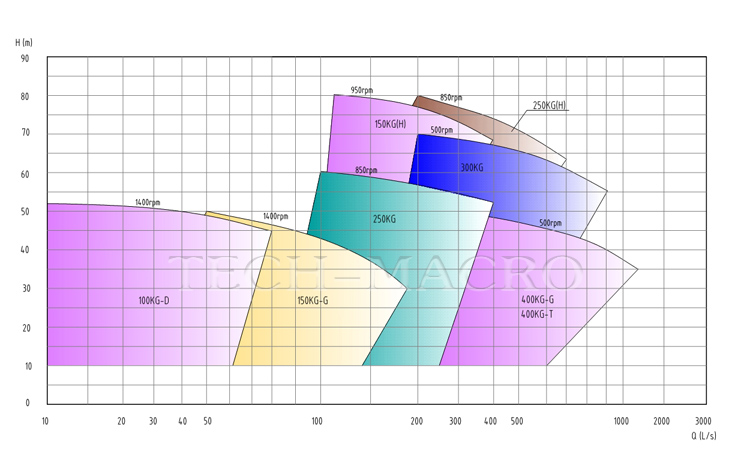 Note: Approximate clear water performance, and only used for primary model choice.
Structure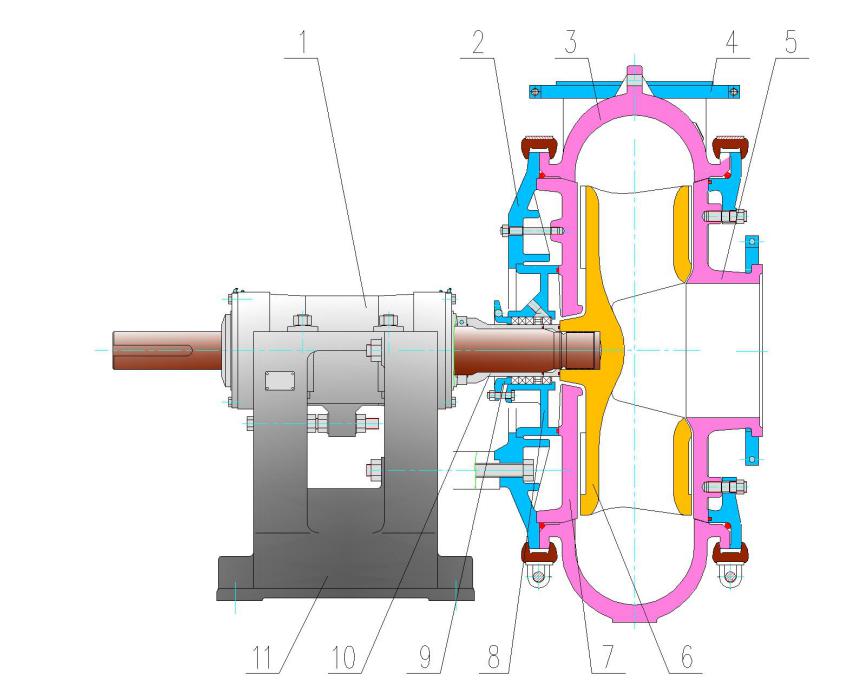 KG Series

1 Bearing assembly 2 Joint plate 3 Frame plate 4 Split discharge flange 5 Throat bush 6 Impeller 7 Back liner 8 Sealing box 9 Packing gland 10 Shaft sleeve 11 Bracket