1. Description:

KT series products developed by Tech-Macro are new generation of ceramic lined FGD pumps, which fully meet the requirements for abrasion resistance, corrosion resistance and chloridion pitting resistance during industrial development.

It is single-stage, single suction, back pull-out, most advanced and high efficient horizontal centrifugal pump, designed by learning the technical advantages of international similar product, combining with years of accumulated hydraulic model data and experience and making full use of advanced quadratic optimization technology like CFD, CAE, ANSYS etc.

This ceramic FGD pump features at large flow capacity, wide high efficiency area(the efficiency of main circulation pump is 85%~92%), low speed, reliable operation, longer service life, and convenient, easy and quick maintenance.

Typical Application:

● Flue gas desulphurization process in thermal power plant, pelletizing plant
● Caustic soda, phosphorus chemical industry, sulfuric acid, coal chemical industry
● Petrochemical, wet smelting industries

2. Features:

● Large capacity; high efficiency; easy maintenance; long service life; low operating cost.
● Back pull-out structure ensures easy maintenance, and no need to dismantle the discharge and inlet pipeline.
● The wet parts of the pumps are equipped with changeable ceramic liner to prevent from the corrosion of acid slurry, limestone or gypsum slurry, etc.
● The impeller is designed to be efficient and adopts anti-abrasive anti-corrosive ceramic. And it can achieve in excess of 90% in the best efficiency area.
● Oil lubricated double row cone roller bearings are mounted to the pump end, which improves the bearings working condition and extend the service life of the bearings.
● The KHTC pumps are designed to be connected directly or directly driven by gearboxes.
● Integrating mechanical sealing ensures the reliability of the pump.
1. Operating Limits

● Discharge Diameter:350--1000 mm
● Flow Capacity:930-- 17650 m3/h
● Head:7-- 40m
2. Material:
Materials Specification

Materials

composite ceramic

Composition

pherical superhard ceramic, ceramic powder, metal carbide and quartz particles combined by two-component thermosetting adhesive

Hardness

Through a series of chemical reactions, it can form extremely high strength and hardness at room temperature, and the hardness of wet parts is higher than that of the traditional slurry pump

Corrosion resistance

much higher than that of metal (PH value)

Applicable ambient temperature

-40℃~120℃

Acid-alkali resistance

PH 0-14

Application range

It can be used for the conditions of any chlorine ion concentration.
3. Performance Chart: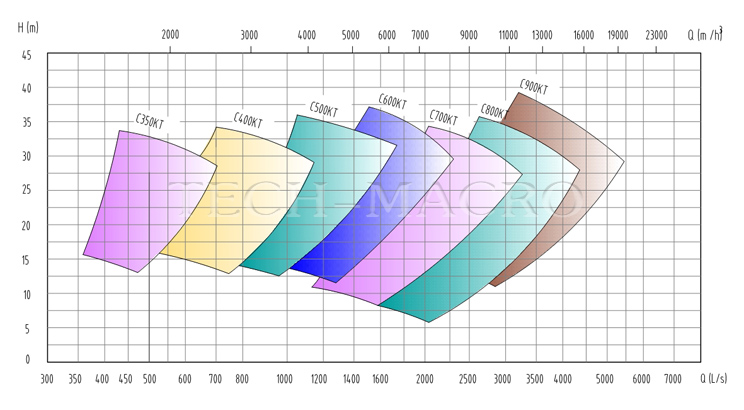 Note: Approximate clear water performance, and only used for primary model choice.
Structure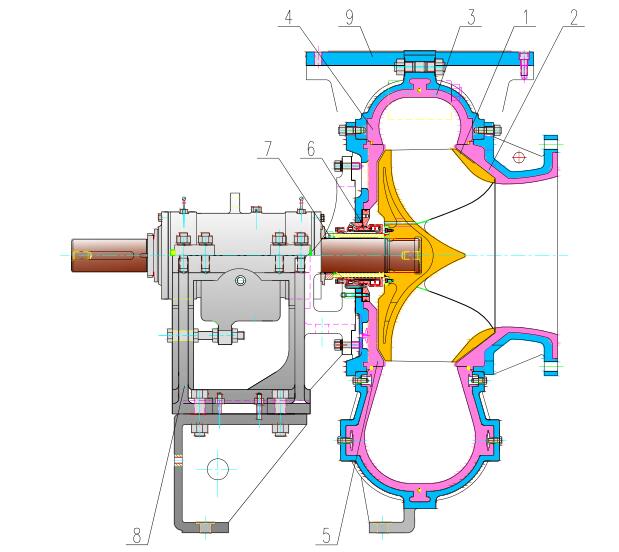 C-KT series

1 Impeller 2 Suction cover 3 Cover plate 4 Frame plate 5 Joint plate 6 Mechanical seal 7 Impeller release collar 8 Bracket 9 Discharge flange