1. Description:

Type KT series Rubber Lined Slurry Recirculation pump is a single-stage single-suction double-casing horizontal centrifugal pump. This type of pump has features of large flow capacity, low head and high efficiency.

Typical Application:

The re-circulation pump is used for absorbent tower in FGD appliances.

2. Features:

● Simple structure; long service life; easy maintenance; low operating cost and long life of quick-wear parts.
● The position of the impeller can be changed by adjusting bearing assembly and the pump unit can be in high efficiency operation state.
● The wet parts are designed with advanced CFD(computional fluid dynamics )Flowing Simulating Analysis Techniques to ensure the reliable and efficient working.
● Two sets of taper roller bearing is fixed in the end of the pump and the column roller bearing is equipped at the driving end.The bearing is lubricated by thin oil.
● Mechanical sealing is adopted integrating mechanical sealing which is specialized in FGD technology to ensure its operation.
● The bearing layer and the abrasive resistant layer can be separated.
● The outlet of the pump is vertical.The pump runs clockwise in view of the drive end.
● X-type frame can save the space largely. And the pump adopts drive mode of direct connection(DC).
1. Operating Limits

● Discharge Diameter:350--1000 mm
● Flow Capacity:260--4900 l/s=930--17650 m3/h
● Head:10--75 m

2. Materials:
Materials Options
Construction

Standard

Optional

Frame plate, cover plate, joint plate

Ductile cast iron

The material adopted is usually based on the detailed application, or could be according to the customer's requirements.

Impeller, suction cover/ front liner

High chrome alloy (A49 abrasion & corrosion resistance material);

Frame plate liner and cover plate liner, back liner
Anti-abrasive, anti-corrosive rubber : natural rubber( R26, R38, R66........) or synthetic neoprene rubber (N22.....);

3. Performance Chart: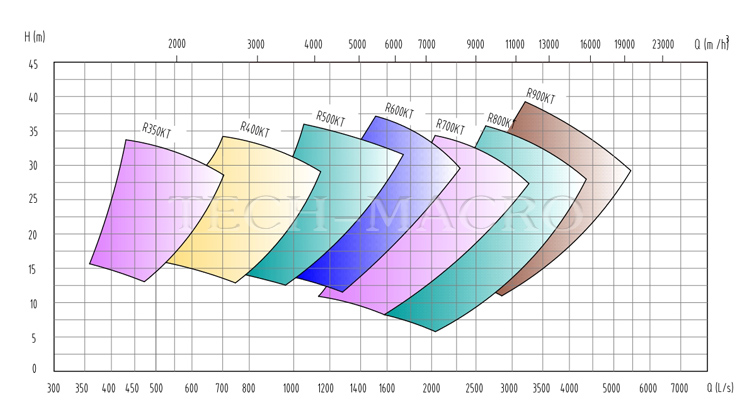 Note: Approximate clear water performance, and only used for primary model choice.
Structure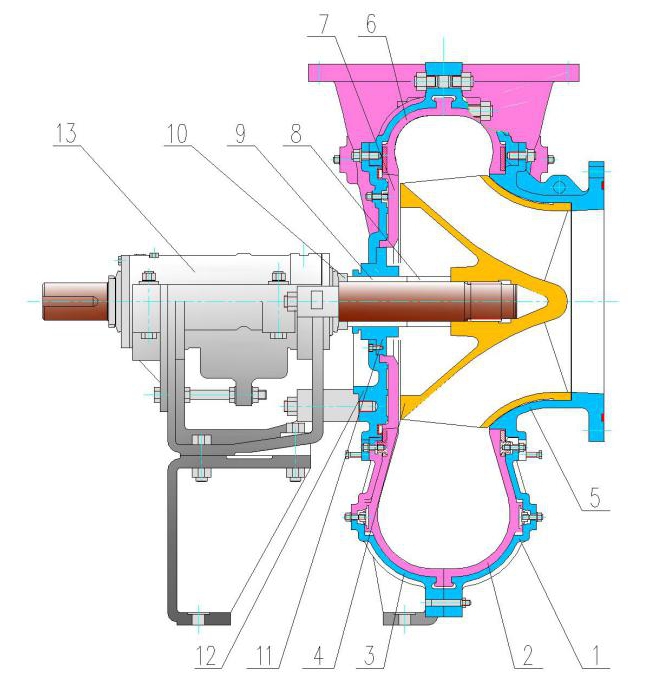 R-KT series

1 Cover plate 2 Cover plate liner 3 Frame plate 4 Impeller 5 Suction cover 6 Frame plate liner 7 Back liner 8 Front shaft sleeve 9 Shaft sleeve 10 Impeller release collar 11 Mechanical seal 12 Joint plate 13 Bracket